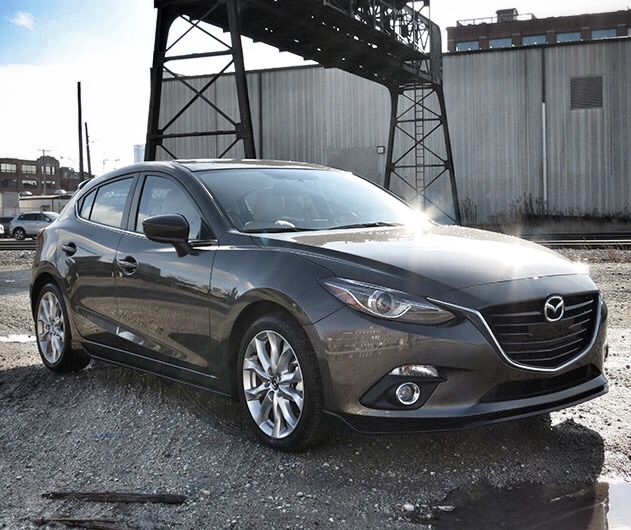 A small five passenger sedan with a sports car soul, the 2015 Mazda3 Grand Touring is a deceptively speedy drive. In fact, it's such a hoot, you'd be forgiven for thinking it's a rear-wheeler.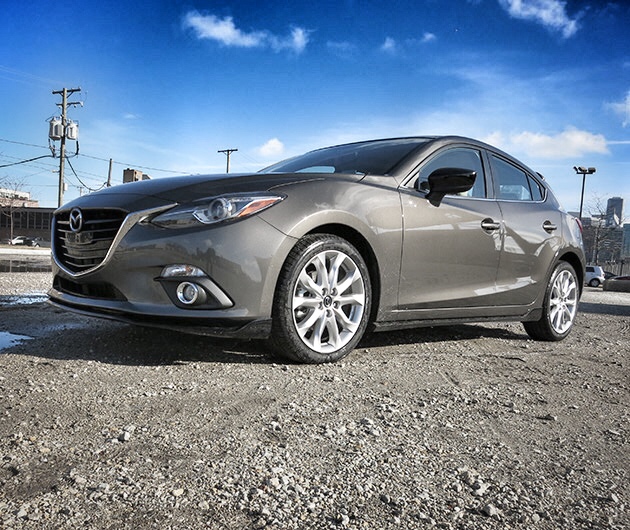 Both six-speed manual and automatic transmissions are available, mated to a spunky 2.5-liter four-cylinder engine that delivers 185 lb-for of torque and 184-hp – more than ample to shift its 3,000 pound mass, thanks also to Mazda's Skyactiv technology which incorporates an explosive fuel-injection system.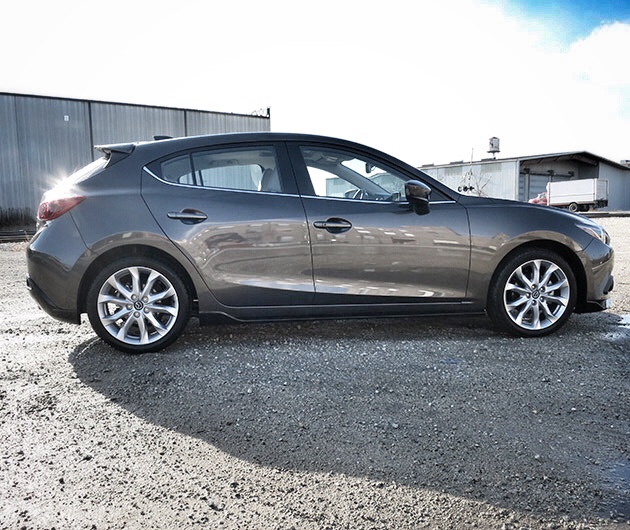 A drastic overhaul to the gearbox means changes are short, swift and seamless and the throttle is tremendously responsive, as is the steering. This car corners spectacularly. The manual transmission delivers an EPA fuel economy estimate of 26 mpg in the city and 35 out on the highway, the figures increase a little with an automatic, as it rides on some very tasty high-performance 18-inch tires.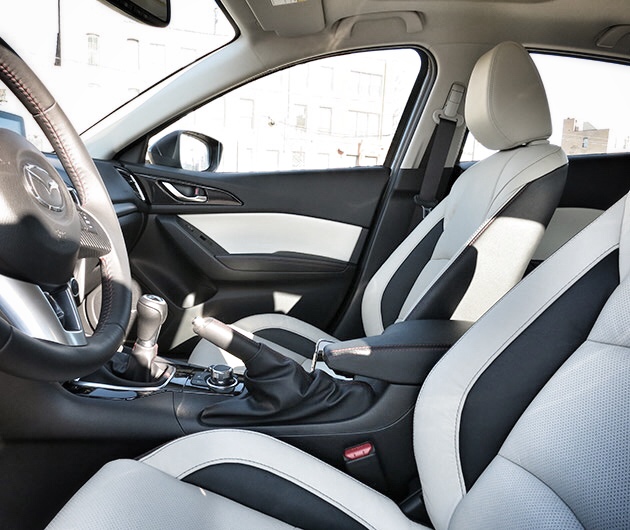 The steering feels great, both in its responsiveness and the fact that the wheel has been nicely molded for a tailored grip. Continuing the sporty theme, the deep front bucket seats are bolstered, heated and finished in leather. Throughout the cabin, an almond finish with contrasting gray trim lends an air luxury. All soft touch surfaces in fact have had a material upgrade and a moon roof view further enhances the feel-good vibe.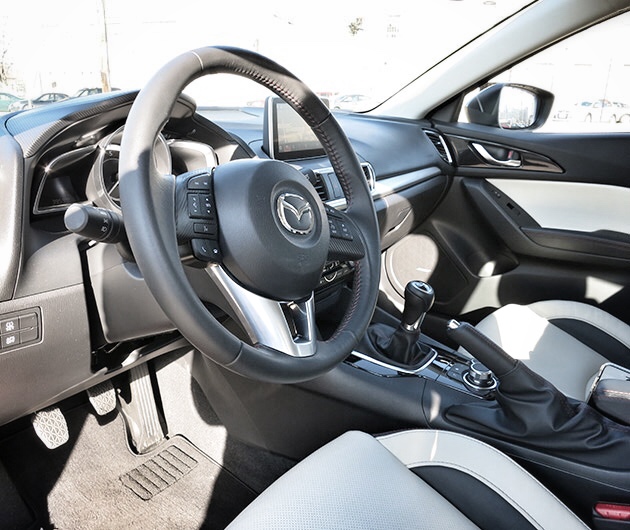 Other available gadgetry includes Bluetooth hands-free phone and audio capabilities, a rear view camera, an auto-dimming interior mirror with Homelink and rain sensing windshield wipers. The Bi-xenon headlights auto level – and auto on and off – and the daytime running lights and combinations taillights are LEDs. For those wishing to add audio prowess to the ultra-chic styling, there's a rip-roaring 9 speaker surround system with Centerpoint courtesy of Bose. Mazda's navigation system ensures you won't get lost while the dual-zone climate control system ensures you won't get too hot.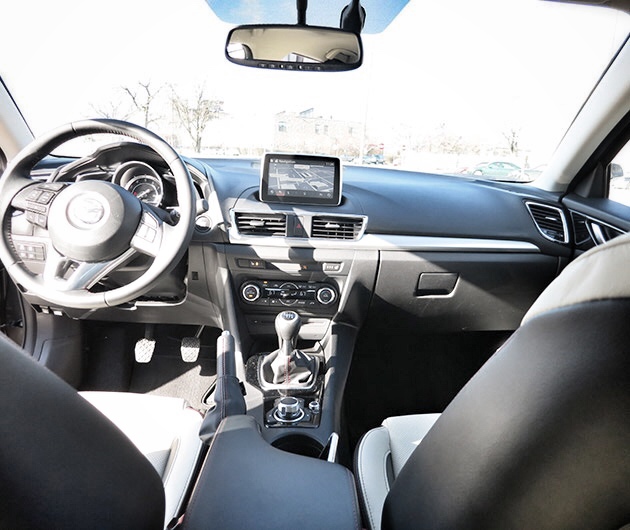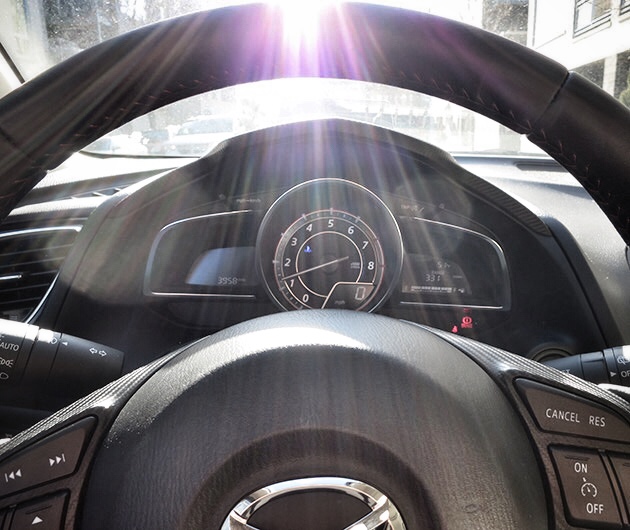 Our favorite interior alteration is the repositioning of the screen from inside the dash to the center console. Not only does it look cool, but everything is so much easier to command. Mazda's CONNECT Infotainment system incorporates a seven-inch full color touchscreen display featuring voice control, and internet and radio integration. SMS text messages can even be delivered by voice.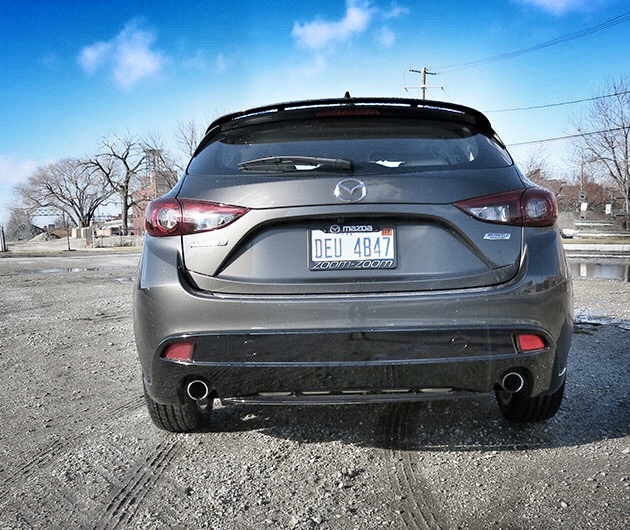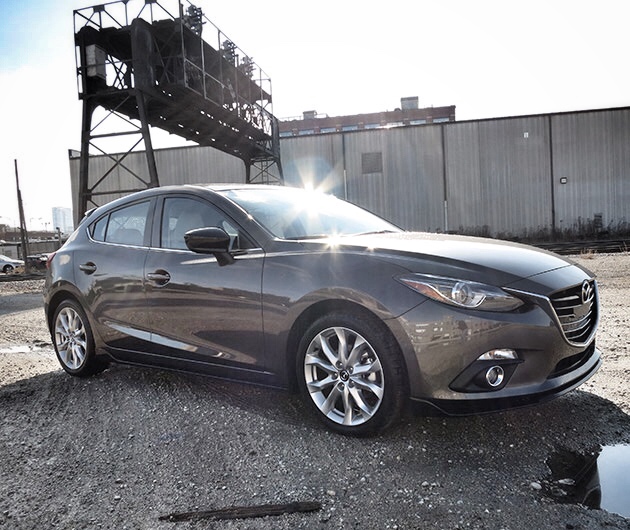 A fun-filled ride, with a fine, highly-functional interior, officially this Mazda3 may not be a sports car, but if it really is practicality you need, then it's just about the next best thing.