Easing into summer—and hopefully, permanently away from lockdowns and social distancing—it's time to upgrade that BBQ and get well and truly social again. And those good folk at Traeger have once more stepped up to the (hot) plate, with the release of the Ironwood 885.
For any backyard burger-flippin' novices out there, Traeger is the Rolls Royce of the grill galaxy, specializing not only in building the most robust—and stylish—of high-end barbeques but ones that are fueled by pellets of wood and backed by all manner of classic and state of the art features.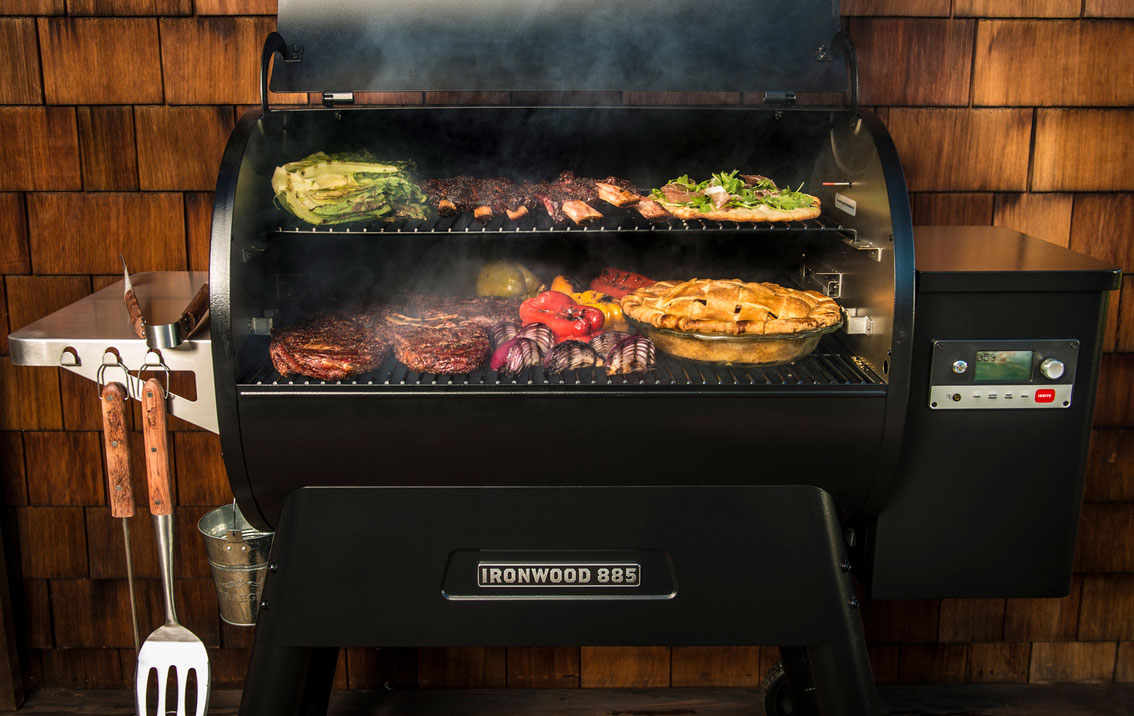 How does it perform?
Whatever the flesh, whether fish, chicken, chops or brisket, nothing better honors that animal's sacrifice than being prepared over hardwood pellets for a sensational, smoky flavor. And wait till you taste the potatoes and corn. Simple, precision barbecuing at its best, a D2 controller with digital display allows temperature adjustments of just 5 degrees (beat that, charcoal!), while the TurboTemp feature and TRU Convection System ensure a fast startup, all-round even cooking, and little heat loss when the lid is opened.
Other clever conveniences include a pellet sensor to ensure you never run out of fuel—backed by an easy-to-use trapdoor for quick cleaning or pellet swapping—and a meat probe that allows you to check on the food temperature while the lid's down, meaning no needlessly lost heat—or food poisoning.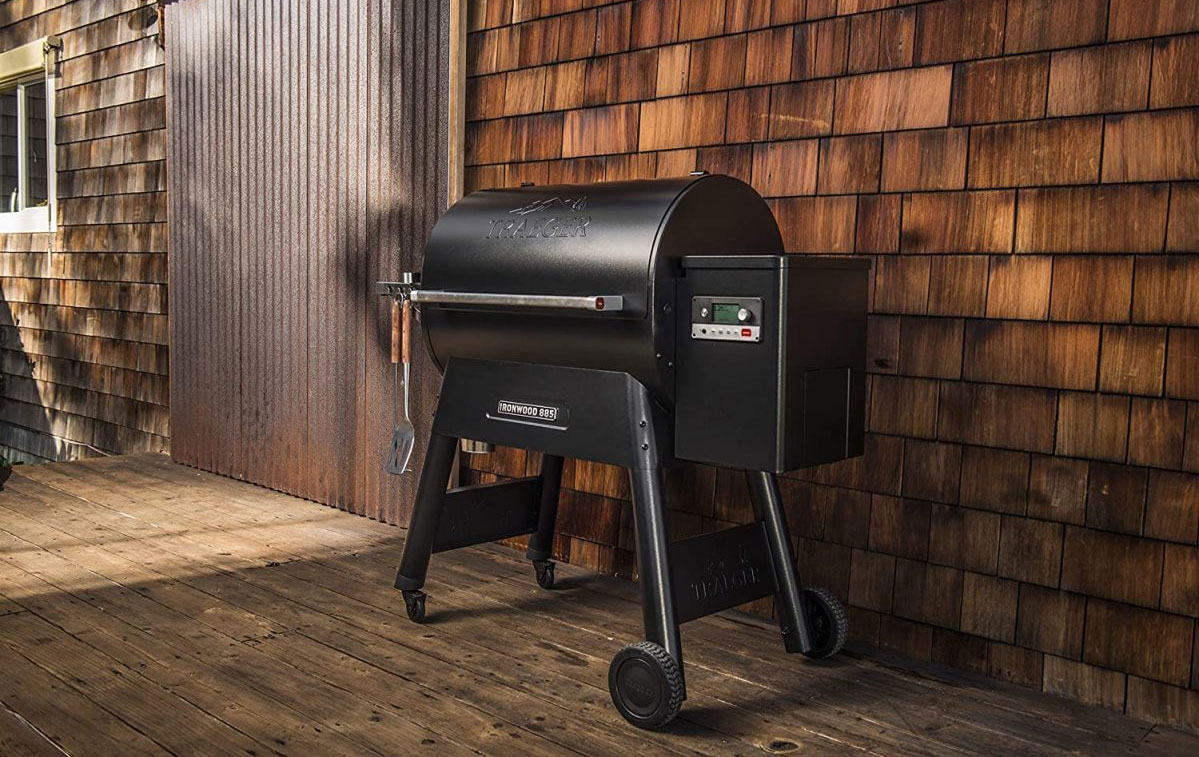 How's it built?
Forged from powder- and porcelain-coated stainless steels, the 175lb Traeger Ironwood 885 boasts double-wall insulation and rides on all-terrain locking castor wheels meaning it can tackle the unruliest of backyard environments—so, forget the earlier Rolls Royce analogy, this beast's actually built more like a Hummer. So, even if the weather turns sour, there's plenty of protection to keep your feast sweet. An adjustable dual-position smoke/sear bottom grate means you may move food close or away from the fire depending on whether you want it seared or slow-cooked, while a Tru Convection fan and Downdraft exhaust system ensures optimal circulation of the heat and smoke.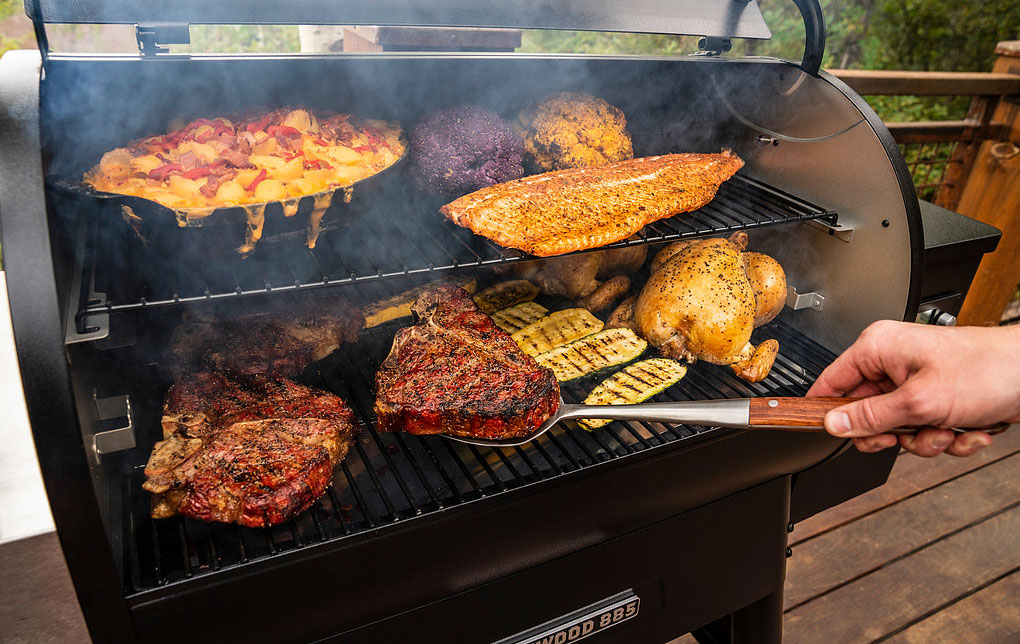 What Can It hold?
No need to put a cap on the guest list number, the Ironwood 885 has a mammoth surface area of you guessed it, 885 square inches—that's room for either 10 chickens, seven rib racks, or nine pork butts. It stands at 47 inches tall, is 54 inches wide, and weighs a hefty 170 pounds (with a 20-pound hopper capacity), so you can really get a good sense of its strength and quality. Construction is a cinch—from unboxing to barbequing should only take 30 minutes to an hour. And don't just think of this as a barbecuing machine—it's good for baking, roasting, and braising to boot.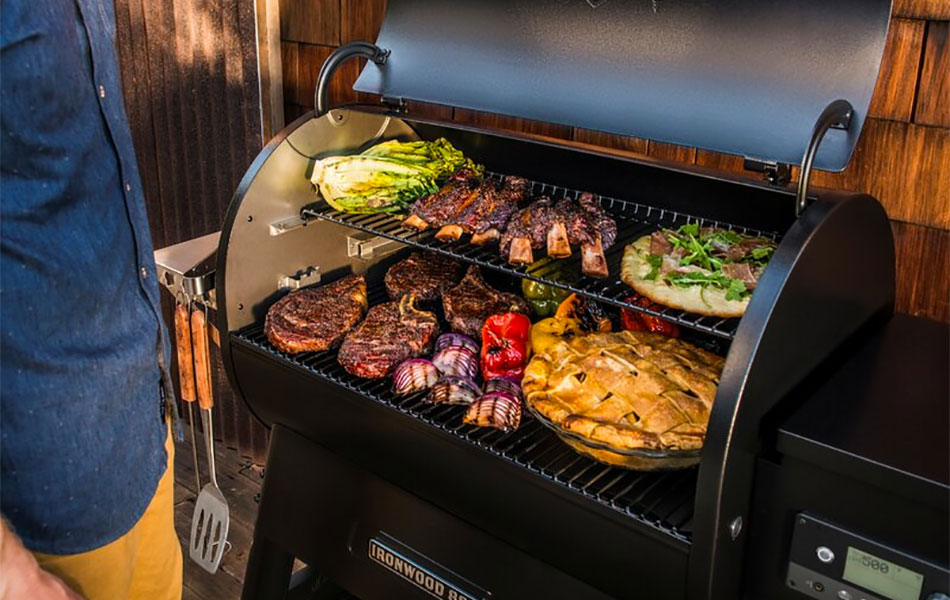 Light Up the WiFire!
Nope, that's not a typo but an awesome name for the Ironwood 885's most awesome feature. Seamlessly blending wireless tech with searing heat, WiFire works through an smart home-friendly app, allowing you to control and monitor the likes of the grill temperature while offering up more than 1,600 recipes along with handy cooking tips like lower temperatures mean more smoke. It even works with Alexa and Google Assistant meaning you can boss your BBQ by voice, and don't forget there's that handy remote controller, leaving a free hand to hold the beer.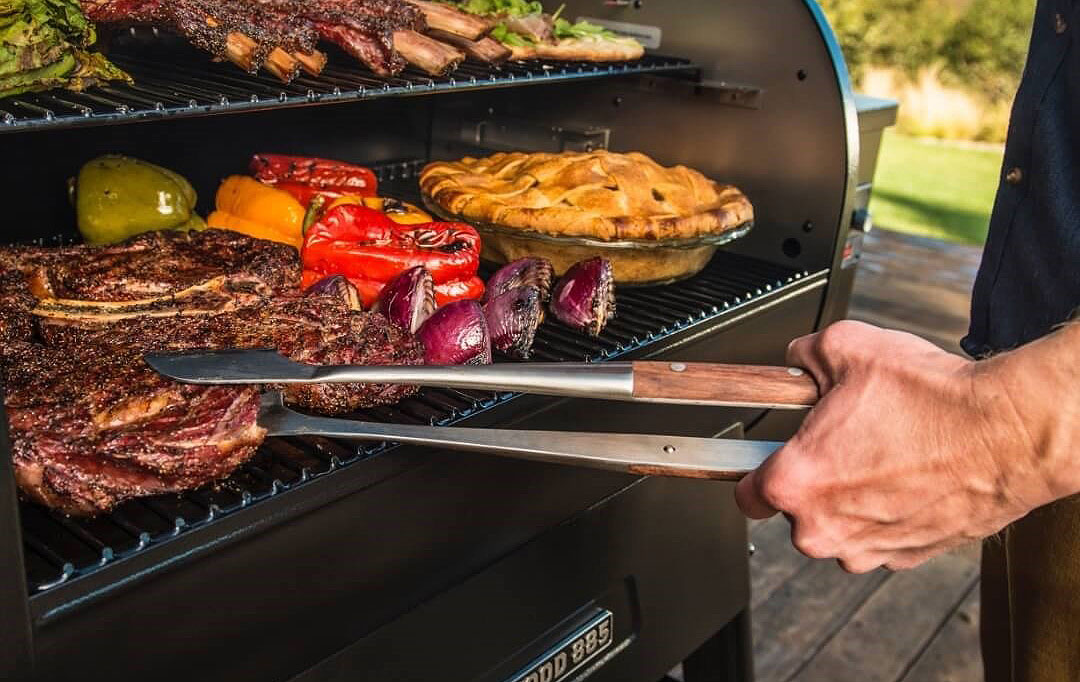 Warrantee
No matter what your financial situation, dropping one-and-a-half large on a BBQ (even one made by the king of grills) is a big deal for anyone. But fear not, this nigh-on indestructible outdoor-cooking machine is a backed by a three-year warranty that covers defects in material and workmanship under normal use and maintenance during that period. Advice is also on hand every day of the year, because the Traeger team are "cooks, not bankers, and we care about our craft." Simply call 1-800-TRAEGER to be walked through any issues step by step. Exchanges of orders or unopened grills are available for a new one, or full refund, within 45 days (just make sure you buy from an authorized dealer, otherwise you're at the mercy of the store's own return policy).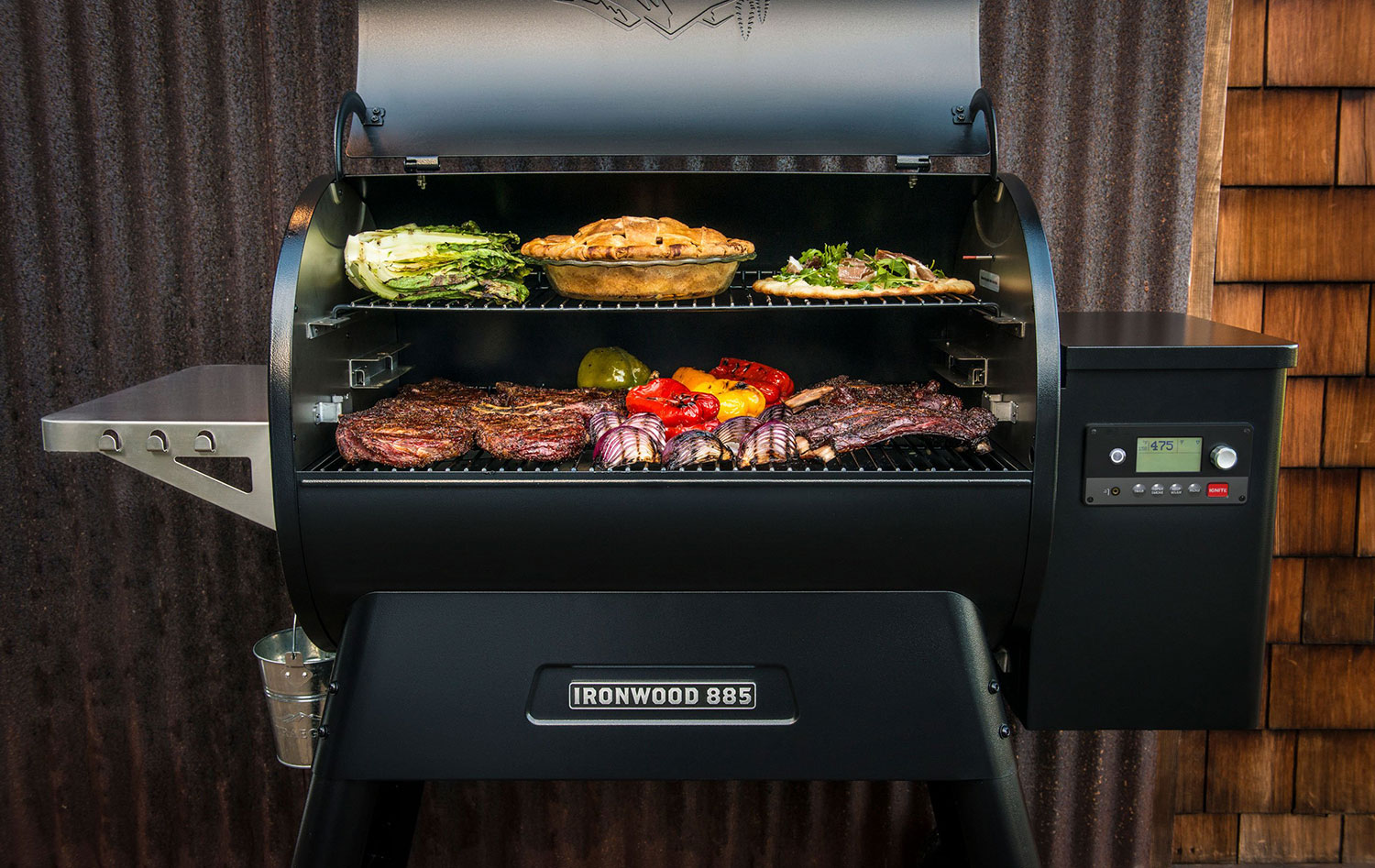 Bonus Materials
From apps to probes and controllers, there's plenty of gadgetry thrown in for free, but you may wish to consider a few extras on top. Clever as this cooker is, we're not quite at self-cleaning tech just yet—we recommend Treager's branded degreaser, and once you're down with the scraping and scrubbing their fresh liners as well. You'll need to shell out more for a folding side shelf for that beer, too.