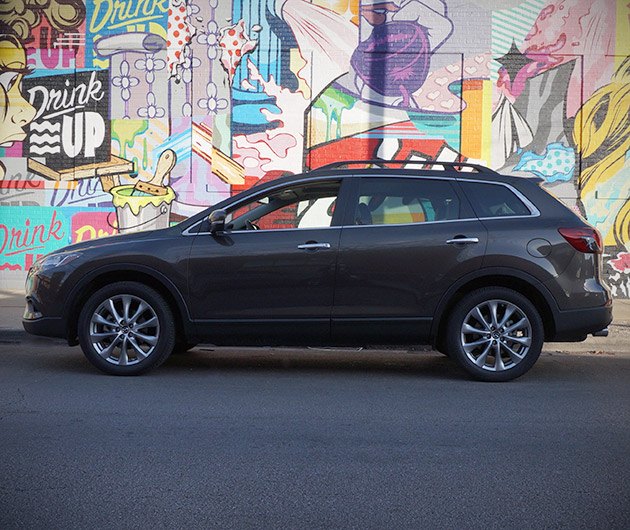 Make molehills of those mountains or move the masses with ease with the 2015 Mazda CX-9 Grand Touring AWD, a family sized seven seater SUV with more than a little sport in its soul. In fact this crossover is such a hoot to drive, you'll be fighting over who does those school runs. Its predecessor has been known to win the odd award or two, and we reckon that trend might just continue.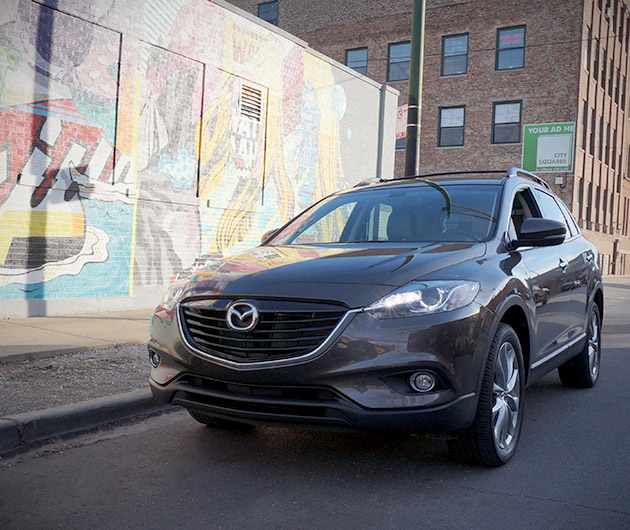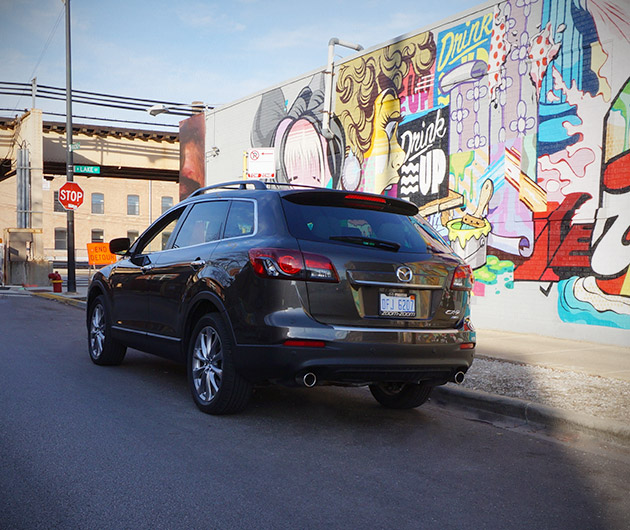 Three trim levels are up for grabs – Sport, Touring and Grand Touring – all equipped with a healthy 3.7-liter V6 good for 273-hp and mated to a six-speed automatic transmission which also offers a manual mode. AWD is a little pricier – $1,590 – but good for the money, and delivers a respectable 16 mpg in the city and 21 out on the highway. The handling is great, the steering sharp, suspension comfortable and both pedals highly responsive. Close your eyes and seriously, you'd think you were in something a helluva of a lot smaller. But seriously, don't actually close your eyes.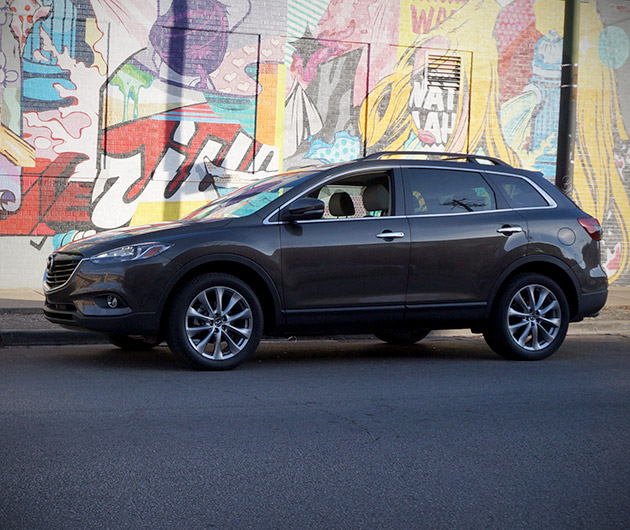 Dynamic stability, traction control and ABS with brake-assist are among its many safety features, along with tire pressure monitoring and side curtain airbags for all three rows of seats. The Grand Touring model also offers rear cross traffic alerts. Its front crash rating is not the best – scoring three out of five in tests by the National Highway Traffic Safety Administration – but the SUV fared better with four out of five in its rollover test.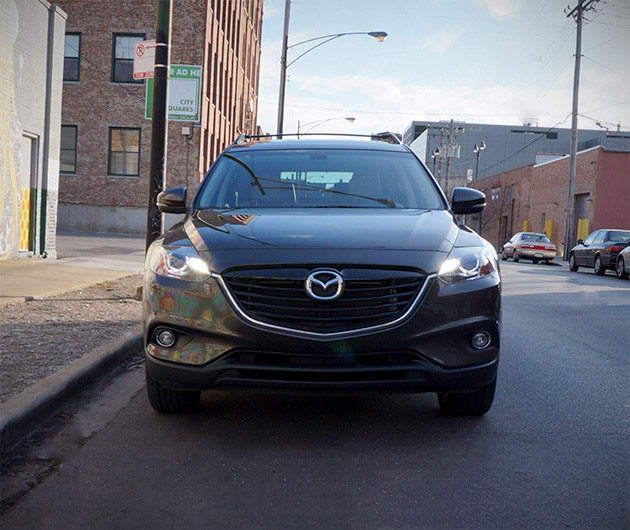 The previously rather cutesy expression has, thankfully, been replaced by one that is somewhat more menacing. The all-new hawkish headlamps are accented by LED daytime running lamps while the sloping windscreen merges into a tapered front end for a far more dynamic profile. Round back, oval exhausts have been switched for round ones. Its bad-boy credentials are cemented by a 3,500-lb towing capacity. What is perhaps most surprising, considering its small-car sensibilities, is that this SUV, at over 200 inches, is longer than the likes of the Ford Explorer and Honda Pilot, with over a foot on Toyota's Highlander. That's without giving it a polish.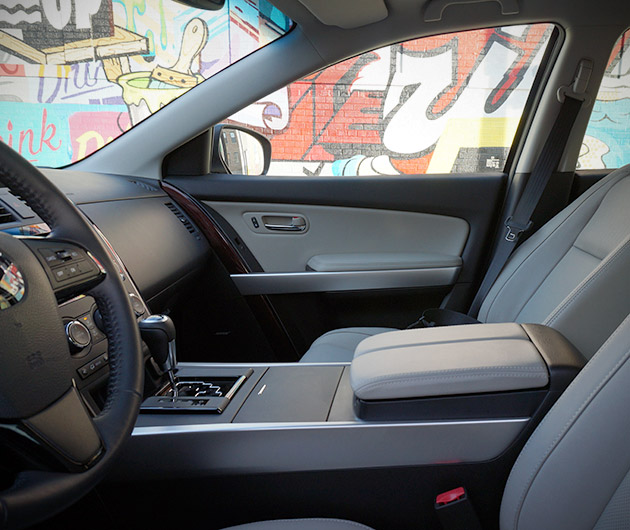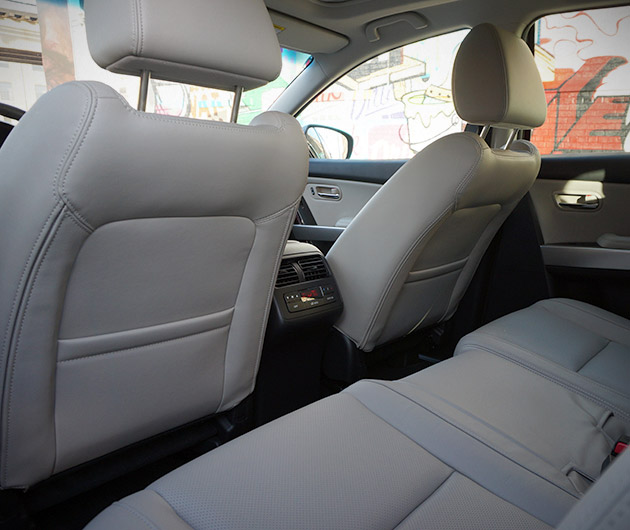 That extra length is certainly noticed inside. Mazda's largest ride sports sizable front seats with a three person split bench behind and a third row more suited to your smaller humans easily accessed by some handy wide-opening rear doors. The second and third seat rows fold close enough to flat while beneath the cargo floor is a handy security storage space for your valuables. Opt for the Grand Touring version and get a power-operated rear lift-gate, optional in the other models.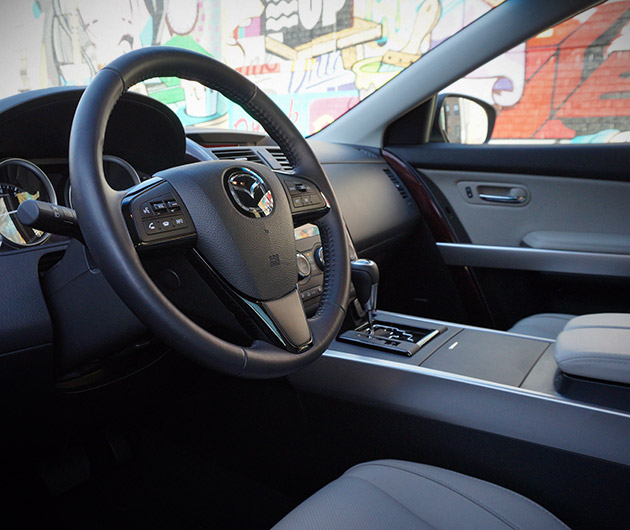 More goodies include a Bluetooth connected audio system, USB port and Pandora radio compatibility. There are optional extras such as a backup camera, rear parking assist and a navigational system all controlled via a high-resolution touch screen that is, alas, a little on the small side. Grab the Grand Touring model to be rewarded with all of the above along with a power sunroof, satellite radio and an epic ten-speaker Bose audio system. Oh, and lots of leather-lined surfaces and aluminum trim.