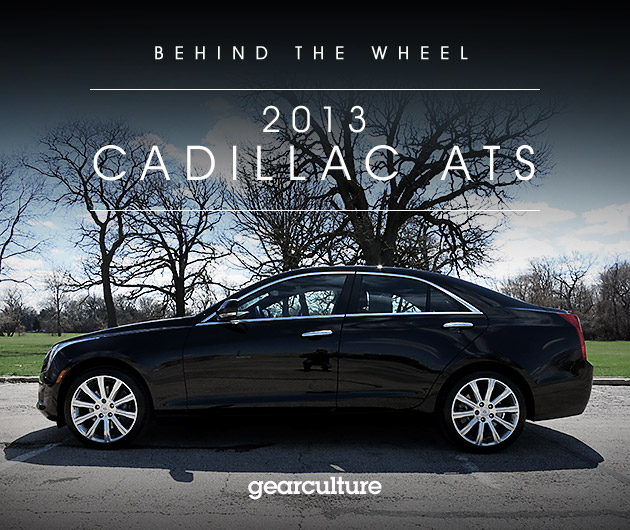 Historically, Germany has always had the monopoly on entry-level luxury sport-sedans for the simple reason, as much as we hate to admit it, that they've always done it best. So we were rather excited about the opportunity to spend a week with our very own home-grown upstart, the 2013 Cadillac ATS, to see whether it could cut the mustard against the likes of the glorious Audi A4, Beemer's legendary 3-series and the iconic Mercedes-Benz C-Class. We certainly liked the look of it, which was a good start.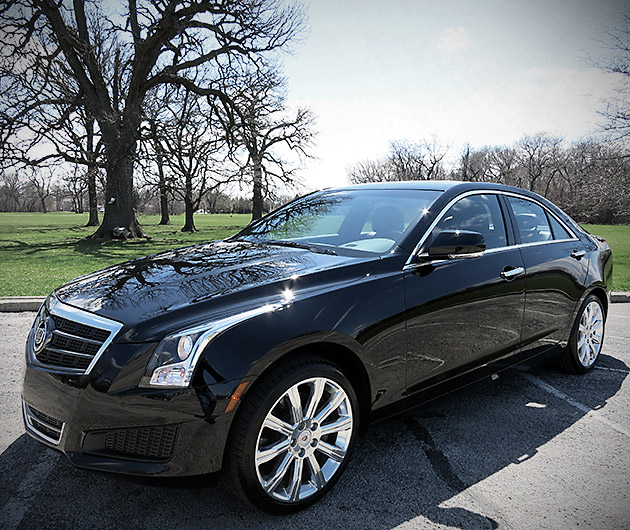 Staying true to Caddy's design heritage, there are no swooping curves or pretentious lines with the ATS, its myriad details are pleasantly understated. Up front, the prominent grill is nestled between a pair of headlights with vertical daytime running that's mesmeric. The rolling shoulders and reduced stance, which provides a low center of gravity, offer an air of growling menace, complimented by an elegant back-end which incorporates Cadillac's signature vertical tail lights and center mounted brake light that ingeniously doubles-up as a spoiler, the benefits of which you can really feel in the handling.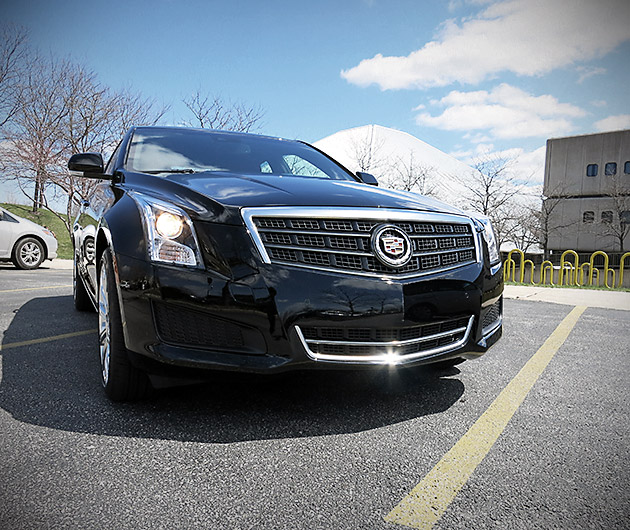 Engine choices include a 2.5-liter 4-cylinder with 202HP up to a 3.6-liter V6 with 321 stallions. We were given the 2-liter 4-cylinder with a twin scroll turbo direct injection, mated to 6-speed automatic transmission. It generates 272HP and 260 feet-pound torque and gets from stop to sixty shy of six seconds, which is a whole lot of fun. We found the MPG respectable, getting around 20 in the city and a further ten stretching her legs out on the highway.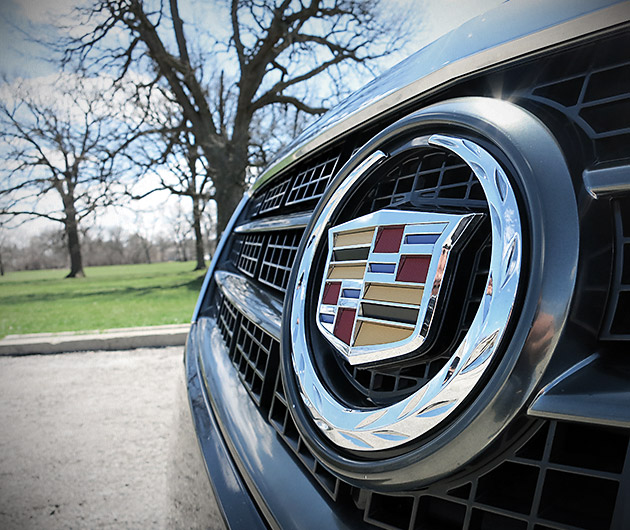 The ATS feels nimble and eager to please, with great responsiveness and excellent steering. It's a vehicle that you always feel well in control of, obedient like your loyal four-legged friend. Line her up, and she'll go there with no hesitation, and with plenty of road feedback. Switch to Sport mode for bit more zip, it'll lower the MPG a little, but hey, with a ride like this, you gotta have your fun.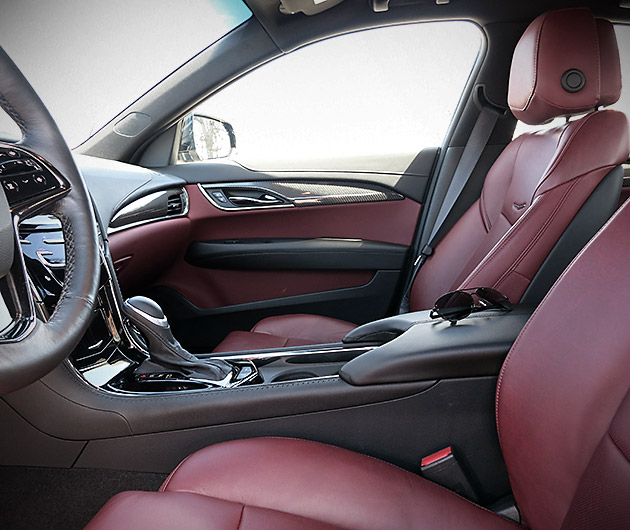 Inside, Caddy have outdone themselves. Premium finishes include luxurious French-stitched leather seating and carbon-fiber trim. The vibe is akin to a jet-fighter cockpit, with the alluring glow of the CUE, Cadillac's table-like controller, giving off a soft blue hue from the center console. It's a vast improvement on the cumbersome knobs and buttons of the previous models. Like your very own Flight of the Navigator, CUE works all manner of features such as the audio, navigation, phone calls and temperature. It can even access your smartphone apps. The positioning of the sensor which brings up the menu when tapped is ideal, and the haptic feedback to let you know when a selection has been made also works well. However, we did feel that the swipe, tap and pinch function was slightly off, there always appeared to be a split-second delay with the requests which could be off-putting. Touch sensitive buttons complement the CUE nicely and the icons are a breeze to understand at a glance.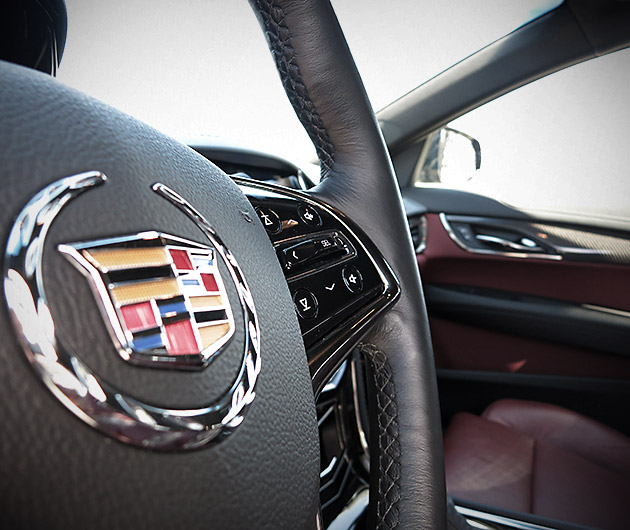 A host of safety features include a warning in the form of a red flashing above the dash light should you continue to press the gas with stopped cars ahead, a lane-departure alert and adaptive-cruise control (which we didn't get to use). The blind spot assist offers further peace of mind as does the back-up camera along with three-side detection front and back parking assist for those tight city squeezes. When the sensors around the car are triggered, there comes a buzz of haptic feedback which is built into the seat. CUE can also be operated via an inbuilt rocker switched affixed to the steering wheel, or even via the Natural Voice Recognition system to input street addresses, tune the radio and take and make calls. It leaves your hands free to concentrate on the most important thing when in control of the car.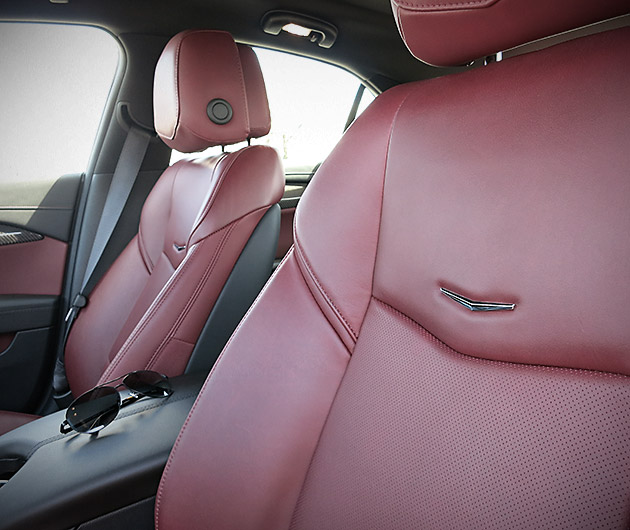 To sum up, it's car you'll be proud to be seen in, luxurious, athletic and chocked full of gadgets. Though we had a couple of minor issues with CUE, overall it's a great system and at the very least has laid the foundations for even more impressive wizardry come the next generation. You can pick up the basic model for $33,990, but for all the perks and quirks expect a $55,000 bill. But better than a Beemer? Well, it'll certainly give the Europeans pause for thought. Over to you, Germany.