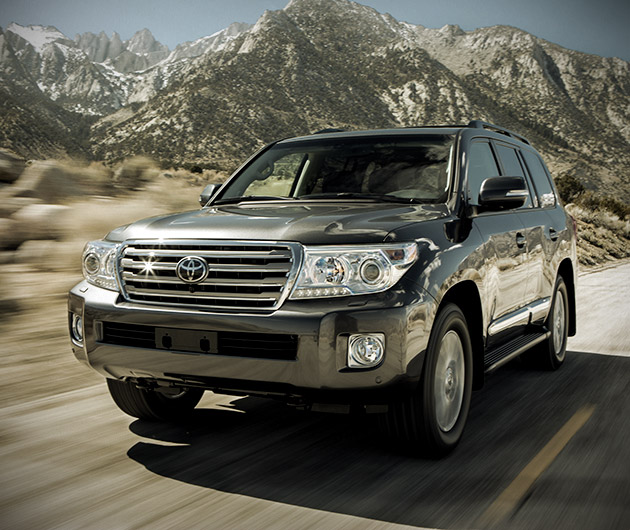 We've all always been huge fans of this this hugely impressive vehicle and the latest model certainly doesn't disappoint. "Redefine 'roughing it'" dare Toyota and boy do they do that for you'll be hard pressed to find an SUV as luxurious and capable as this one.
At $78,255 it's by no means a cheap option, but, you got a hell of a lot of bang for your buck starting with its ferocious 4×4 381hp 5.7 liter V8 Dual Independent VVT-I engine that gets you to 60mph in a shade over 6 and a half seconds and produces 401 pounds per feet of torque. Its fuel economy is superior to that of the Dodge Durango and Chevrolet Tahoe, giving you 13 miles to the gallon in town and on the highway, 18. The transmission is a 6 speed automatic sequential shift, plus a 5 speed Crawl control and off-road assist system that makes this one of the finest performers in the dirt on the market and even on the tarmac it has few peers.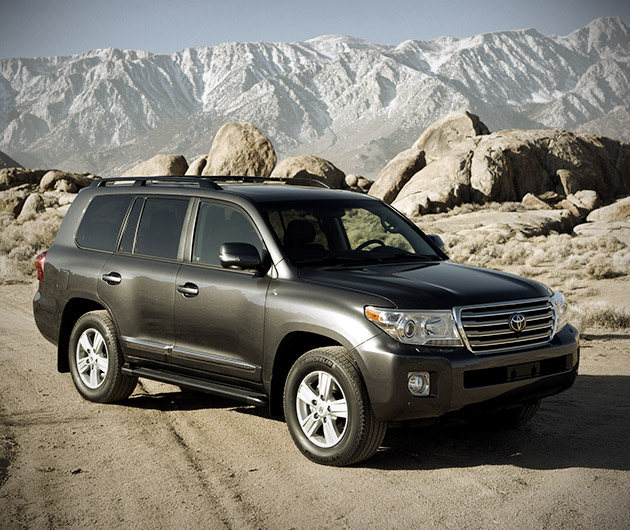 You can pick from seven colors for your Land Cruiser – Classic Silver Metallic, Magnetic Gray Metallic, Salsa Red Pearl, Sonora Gold Pearl, Amazon Green Metallic, Blizzard Pearl and Black and in the back a DVD entertainment system comes as standard so need to worry about keeping the kids amused. Other standard features include a premium navigation system with Entune and JBL Synthesis, USB, Bluetooth, HD radio, rain-sensing windshield wipers, 4 exterior cameras, 360 degree multi-terrain monitoring, heated seats and a keyless start and entry. It also fits eight instead of the usual seven for vehicles in this class and the third seat row folds for extra storage. It's an incredibly comfortable design.
Safety, as always, is paramount with Toyota, and regardless of the security of the SUV's body-on design and sheer size and bulk, it's full of airbags and boasts other high-tech safety systems such as stability control, anti-lock brakes, tire-pressure monitor and a very, very clever pre-collision system which will sense any imminent fast approaching objects – such as a wall or out of control car – and adjust the seatbelts accordingly.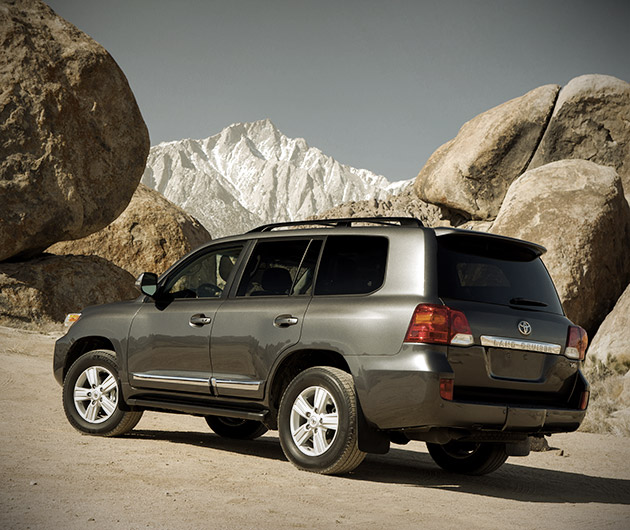 But what really stands out is the Land Cruiser's ruggedness and trail capabilities. Its towing capacity surpasses even that of the Land Rover HSE Lux at 8,200 pounds and the trailer sway mode further enhances stability. Its clever suspension will automatically adapt when you leave a sealed surface and the rear springs then allow for nearly ten inches of movement over those rocks. A regal, weighty, beast of a vehicle that makes you feel king of the road, both on, and off.