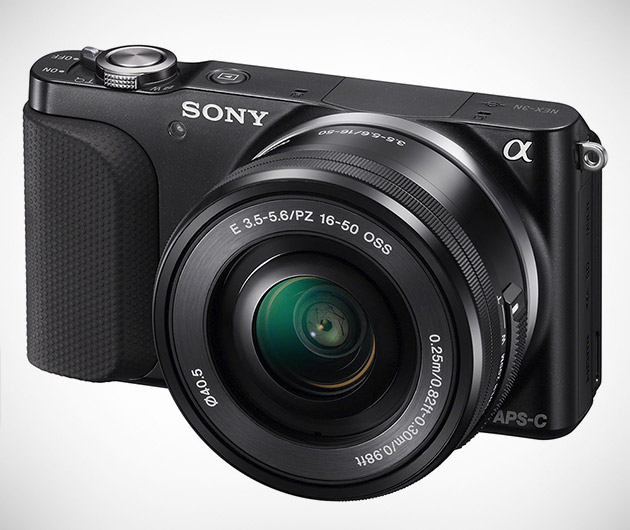 See the big picture, then immortalize it with the award-winning Sony Alpha NEX, a range of compact cameras whose mammoth sensors mean the quality and performance of a DSLR from a unit half the average size and weight. A highly attractive snapper, it's the smallest interchange lens digital camera capable of handling a mega-sized Exmor APS HD CMOS sensor. A host of E-mount lenses means you'll always have the right one for practically any given occasion and for good measure, a further 30 A-mount ones are up for grabs if you choose to purchase the adaptor.
Four models are available: the NEX-3N, which is the base, the NEX-5R, NEX-6 and NEX-7. All four boast mirrorless technology, an AV CHD 1080/60p/60i/24p video resolution and a turn-and-click control wheel coupled with a pair of soft keys which make the cameras an absolute cinch to use. A 0.5-inch viewfinder is standard on the NEX-7 and -6, while the -5R has an option accessory EVF. The two top models sport a 90-degree tiltable three-inch LCD and the other two house a tiltable 180-degree three-inch, with the -5R also being touchscreen operated.
The base model is equipped with the most powerful battery of the four, with 480 images worth, while the others will give between 330 and 430 before their juice runs dry. The NEX-3N lags well behind the others when it comes to frames per second however, stalling at four with the rest delivering a further six on top.
The first three cameras boast 16.1 megapixels, while the top dog's is 24.3. The middle two models are also Wi-Fi enabled. The cameras' weights range from 7.4 oz up to 10.3 for the NEZ-7. All are available in black, the NEX-3N is available in white, as is the -5R as well as silver. E-mount lenses include specialized models such as a fisheye, portrait, macro and telephoto, which are all precision crafted from premium materials. Optical SteadyShot image stabilization further enhances results. If that still isn't enough for you, get yourself that Alpha NEX camera mount adaptor and 30 A-mount lenses can be yours. Mics, tripods, adaptors and hard-drives are among a host of other add-ons.
Those who opt for the NEX-5R or -6 can get creative with the PlayMemories Camera Apps. Fool all with your photographic prowess, applying artistic effects and retouching images like a true pro. The apps are easily and wirelessly downloaded via Wi-Fi and likewise photos can be instantly uploaded to the social media site of your choice. Get snapping.
Sample Photos: