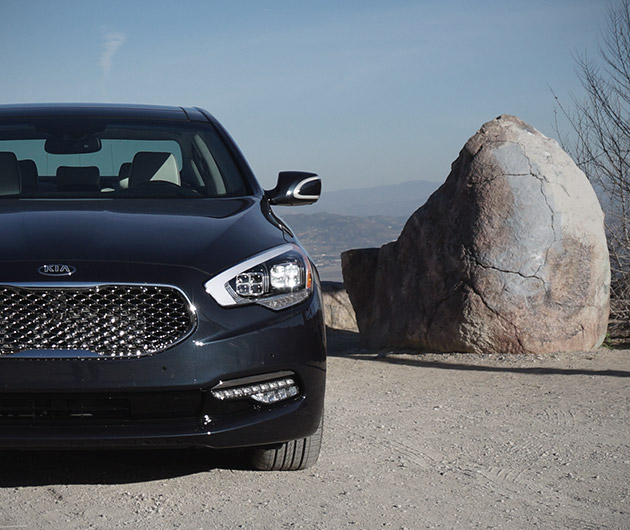 Yes it's a Kia, but not as you know it. Nowhere near in fact. The 2015 Kia K900 seems to trade their trademark thrift for, wait for it, Bentley-esque luxury. Well, maybe not quite Bentley-esque, but it's a darn respectable start. Thankfully Kia is still offering plenty of bang for your buck to elevate the ownership experience. Size-wise the K900 is comparable to BMW's 7-series, but, even with the higher grade V8 engine package, it is priced closer to Beemer's 5-series. Said V8 is a 5-liter with 420-hp and will also be available in a 3.8-liter V6 that delivers 311-hp. Both vehicles are mated to a sporty 8-speed automatic transmission, and both are also rear-wheel drive.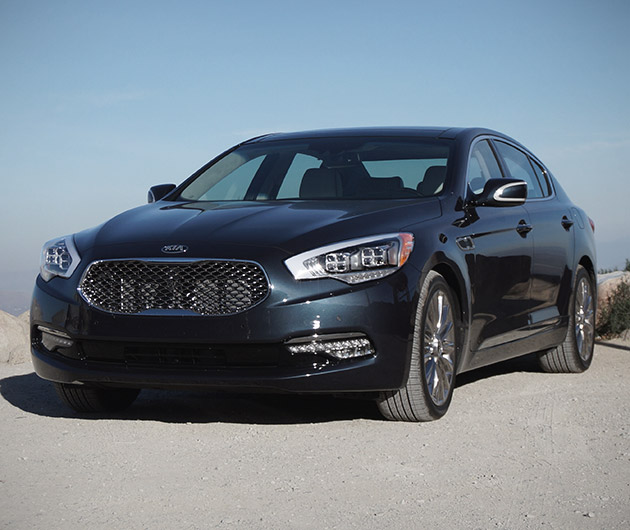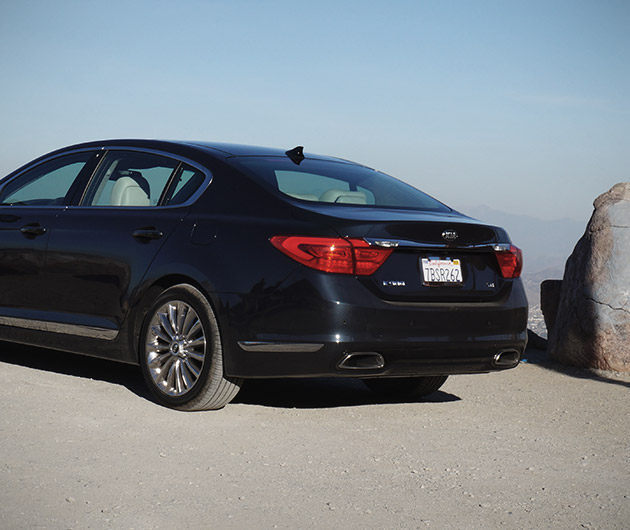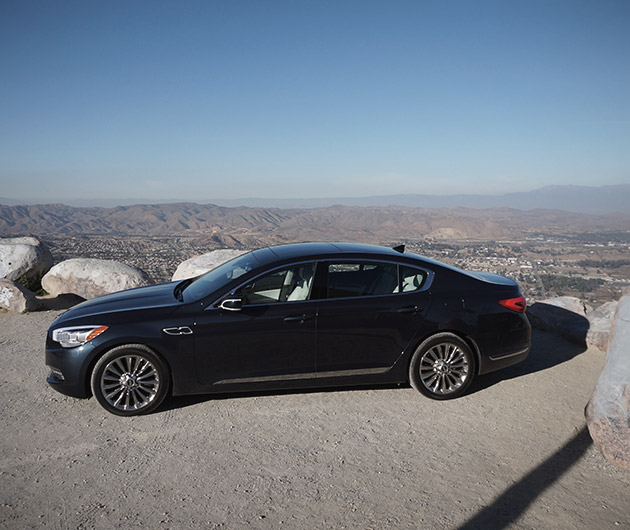 Kia has employed Audi's former chief designer to lend a hand with the exterior styling, and it sure has paid off. Sophisticatedly sculptured, it emits an absolute air of gravitas that truly means business. The menacing Tiger Nose mesh grille is framed by adaptive LED lights and the sweeping shoulder line affords it the prowling stance of a big cat. The design offers optimum aerodynamics, while the engine has been mounted further back for a greater "prestige distance." Inside is very, very spacious.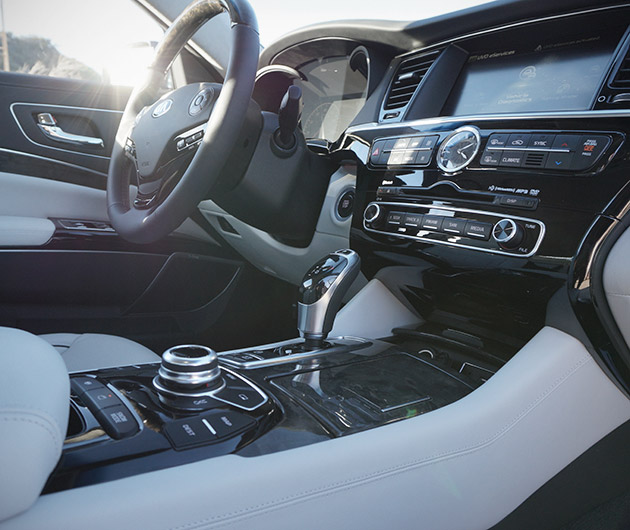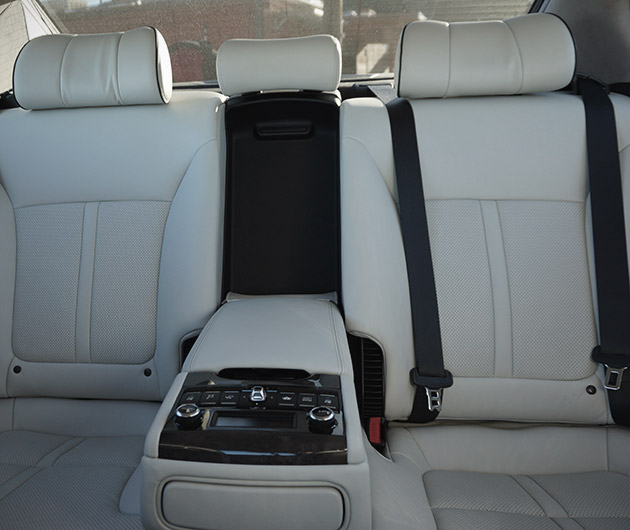 Opting for the V8 model will bring rear ventilated seats that can be reclined and heated, a heated steering wheel, a 12-inch display and laminated windows for increased interior silence. Available is genuine wood trim accent with aluminum alloy inlays and a 16-way adjustable power driver's seat. There's a real cockpit vibe going on inside, with the standard 9.2-inch navigation screen taking pride of place mounted to the center of the dash.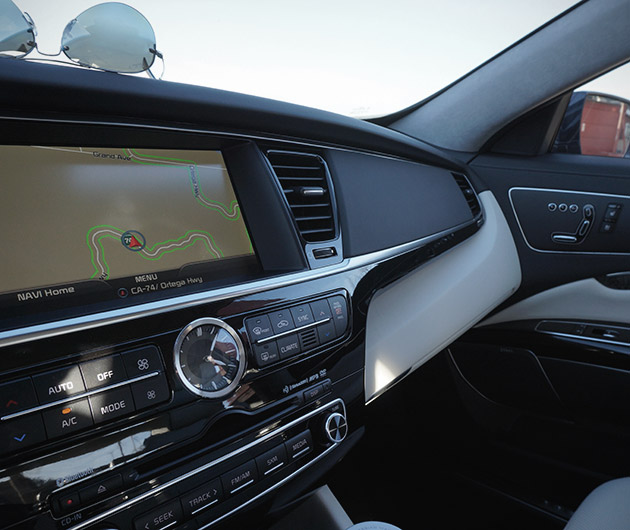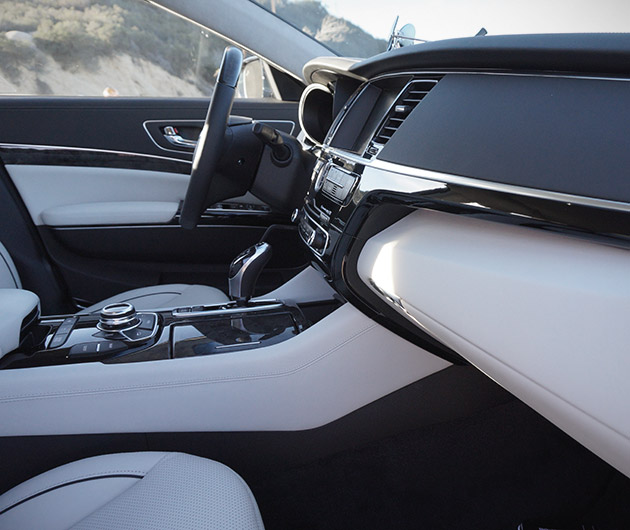 Innovative technology includes a Grammy-award-winning 17-speaker surround sound Lexicon Logic Audio system and a fully customizable heads-up display on the windshield that is so smart it will automatically adjust depending on outside conditions. There are Bluetooth capabilities and the infotainment and telematics systems are voice-controlled. The surround-view monitor, watched via that center console, comes in very handy considering the car's size. An even better view comes courtesy of a glorious full-length panoramic sunroof, available with a premium headline frame. A power sunshade is activated at the push of a button and safety features include blind spot detection and lane departure warnings which run through a mirror mounted radar system.
If you're in the market for a luxury motor, or dare to challenge the luxury you know, then the 2015 Kia K900, we believe, is well worth a punt.