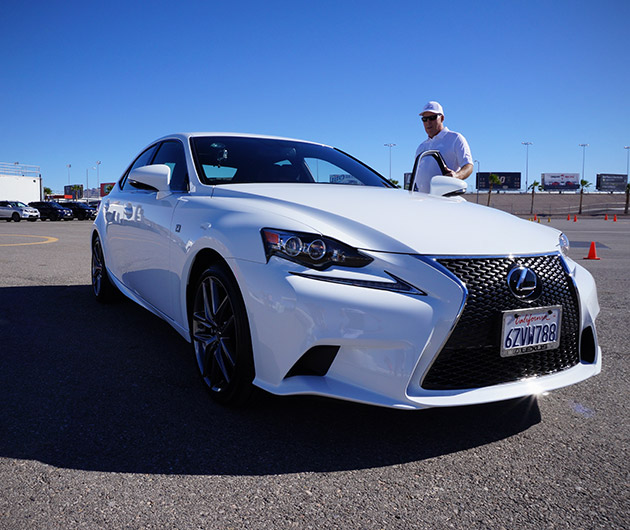 Designed to out-muscle, out-run and out-style the likes of Cadillac and BMW, the all-new 2014 Lexus IS F Sport range looks – and performs – as though it's been injected with steroids. We took these bad boys out on the track and man, do we love it. Two engine sizes are available: 2.5-liter (IS 250 F) and a 3.5-liter (IS 350 F). Suspension has been sharpened, wheels magnified and the longer wheel base enhances its athletic stance while also providing that all-important extra leg-room. Muscular panelling and toned fenders add to the dramatic, sweeping profile. Its snarling front-end boasts a full-faced mesh grille that makes it look as though it's spoiling for a fight.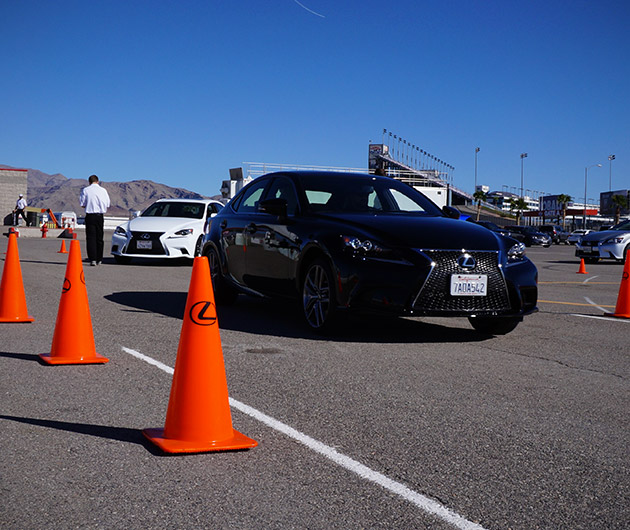 The cars continue with the DOHC V6 engines of previous editions. The 2.5-liter delivers 204-hp, does 0-60 mph in 7.7 seconds and offers 30 MPG. Expect to get around 28 MPG from the 3.5-liter, which delivers 306-hp and will propel you from stop to 60 mph in 5.6 seconds. There are two drive modes: eco and sport, and paddles for manual shift are standard, as is the F Sport tuned suspension. Opt for the IS 350 F and experience the exclusive adaptive variable suspension. Also available with that model is variable gear-ratio steering.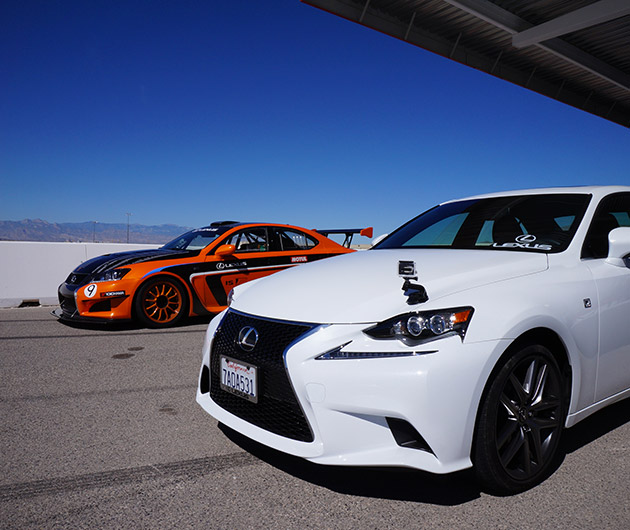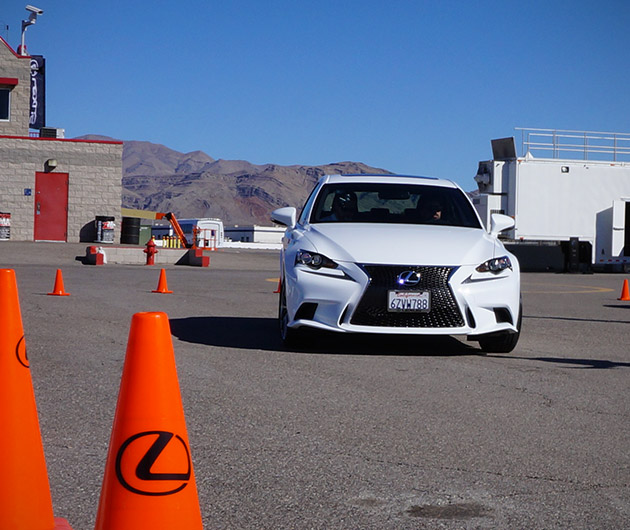 The IS F Sport has been honed on six of the world's greatest racetracks, including the speedway at Fuji. The ride's sculptured shape offers incredible 0.28 drag co-efficiency which is even lower than Lexus's very own supercar, the LFA. Its double wishbone suspension system has had an overhaul and offers 20 %more sway up front, while the multi-link rear suspension improves grip. Rigidity of the body has been greatly increased too, for better handling.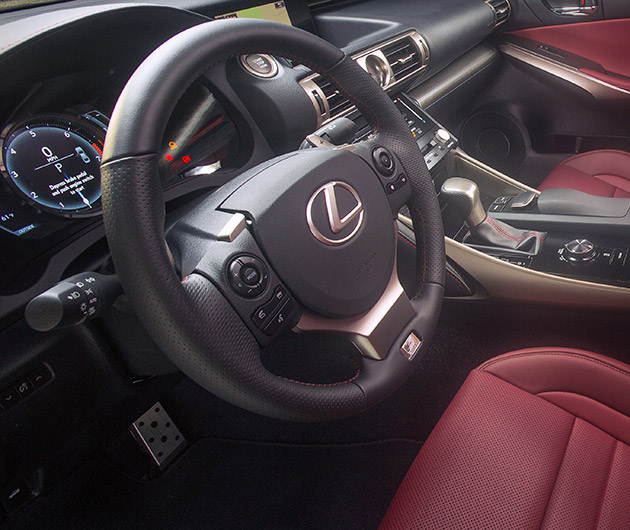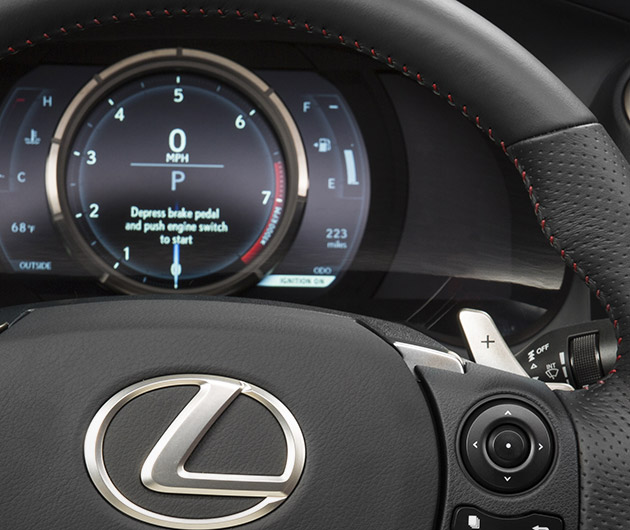 The gauge design has been lifted straight from the LFA, and the race-car feel continues within the cockpit with the low-set driver's seat, perforated leather trim on steering wheel and shift knob and aluminium sport pedals. There is an optional upgrade to a beautiful Rioja Red Nuluxe Trim. Such is the attention to detail, even the windshield wipers have been specifically angled for maximum viewing and to better enhance the dynamic driving experience.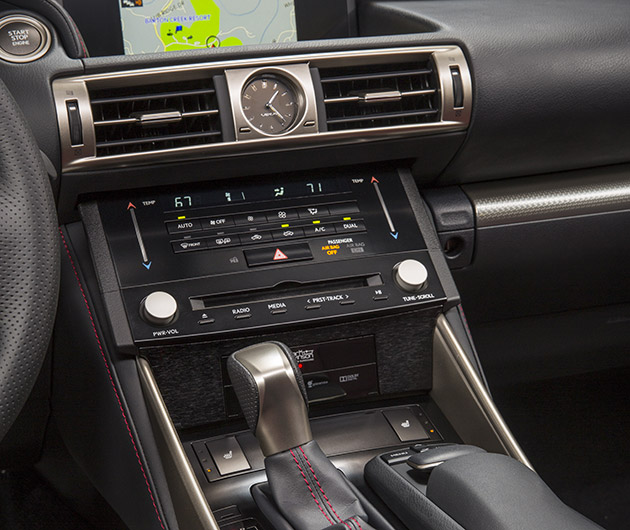 HD Radio with weather and traffic alert is standard in the range, as is precision-tuned climate control. Navigation is an optional extra. The audio technology up for grabs is absolutely superb courtesy of 3-D, 360-degree sound from the available 15-speaker Mark Levinson premium audio system.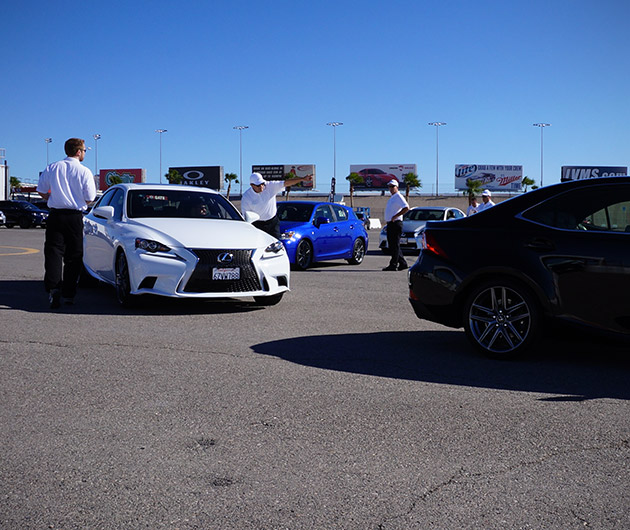 Both models boast a class-leading standard ten-airbag system, including side impact airbags for optimum protection. There is a lane departure alert and available advanced pre-collision system which has been designed to automatically begin braking upon detecting danger, should you fail to do so. Brains, beauty and bags of brute force, it's our most favorite Lexus range ever.