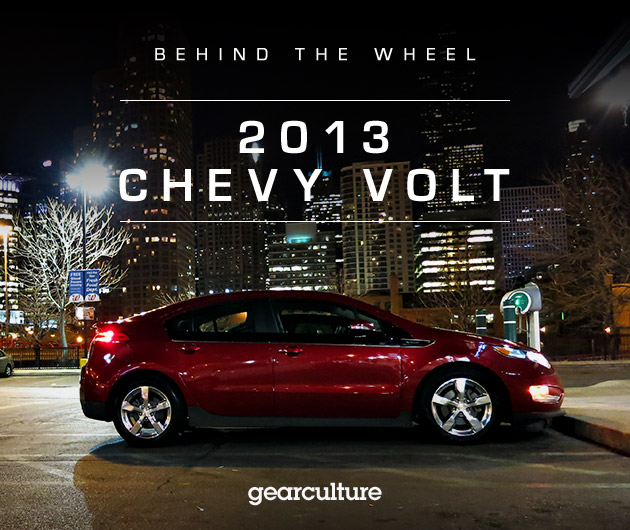 Thanks in no small part to a host of Hollywood celebrity endorsements, hybrid vehicles have stolen most of the green-motoring headlines in recent years. I've always been a big fan of hybrids, but having spent a week with the 2013 Chevrolet Volt for the daily urban-suburban commute, can totally see why it was the best-selling plug-in car of 2012. Come the end of the week, the keys were handed back reluctantly.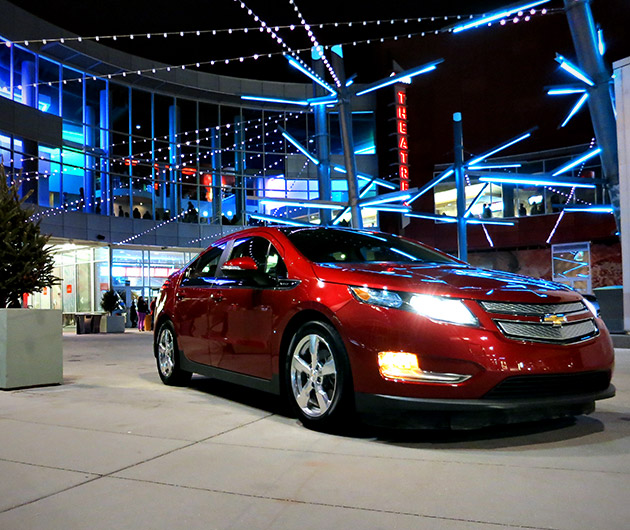 A five-door hatchback, the Chevy Volt boasts nice curves, is bursting with personality and offers a fun, smooth and quiet ride. The ingenious design uses a primary motor, powered by a substantial lithium-ion battery pack, which ticks over until the juice runs dry. The sophisticated electric drivetrain, Voltec, powers the front wheels and when the charge is flat, automatically switches to a four-cylinder gasoline engine – eliminating the need to stop, plug-in and top-up. A single charge, says Chevy, should take you 38 miles, and combined with the 9.3-gallon tank, a more-than-ample 375. Peace of mind for green-minded drivers worried about those long hauls.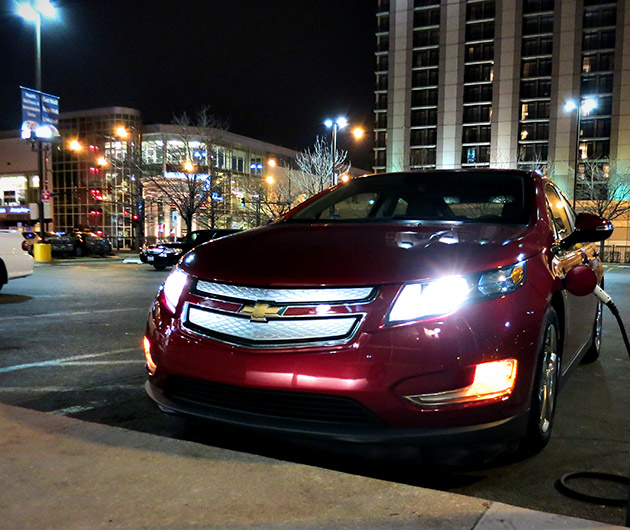 The Volt lasted a full two days on the streets of the Windy City, with heavy use of the heat and tech, averaging about 31 miles on the battery. Forty miles into the third day, the transition from electric to gas power was seamless, the silence of the electronics replaced by a barely noticeable purr.  I headed to a commercial charging station to replenish the depleted battery at a high-voltage Level 2, 240VAC point, but the thought of twiddling my thumbs for four hours soon proved too much to bear and so I headed on home to leave her plugged into the 110VAC garage outlet overnight.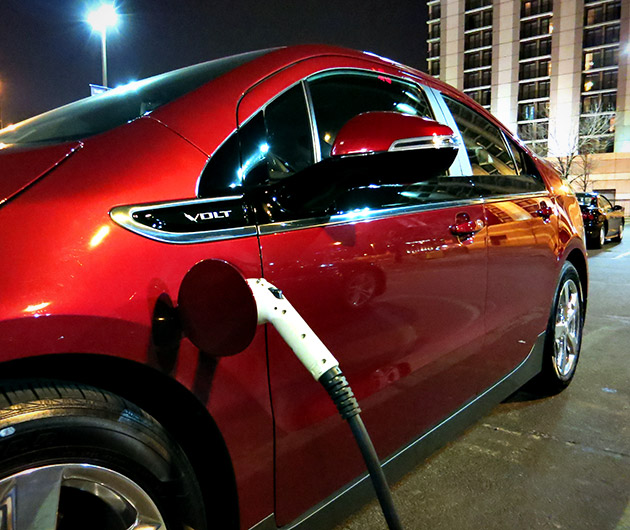 The Volt handles nicely, and even when running purely on electric, never feels underpowered. It keeps up with all the petrol guzzlers on the streets and highways, where it attracted the odd admiring glance. Certainly the handling is as good as the majority of hatchbacks I've tested and performance-wise, the Volt more than holds its own against a typical gas-powered sedan. The torque is satisfying, and though it could use bit more driver feedback, the steering, by and large, is responsive. For that extra zip, switch to the Sports mode. It uses a little more power but injects a little more fun into those monotonous commutes.
Inside, there's plenty for the technophiles. My test vehicle boasted a keyless ignition with push button start, seven-inch color LCD screen instrumentation, steering wheel controls, a seven-inch center console touch-screen and touch-sensitive center stack controls. There was climate and cruise control, sumptuous heated leather/suede seats, Bluetooth connectivity, MyLink audio, OnStar and satellite navigation. I love a good tune and was mightily impressed by the thumping Bose speakers and but was disappointed that there was no back-up camera or parking sensors (spaces, when you eventually find them, can be a real squeeze in Chicago). However, inside it is pretty faultless. The cabin is well designed, the quality enhanced by sporty details and a total lack of that cheap-looking plastic that seems to plague so many of its contemporaries.
There are some nice practical touches too. There's plenty of head and legroom in the front seats and the hatchback is generously proportioned with a 40/60 split folding rear seat. The Volt accommodates coffee-lovers and all the family's beverage needs with a couple of cup holders up front next to the arm rest, two to the back sides and a central cubby.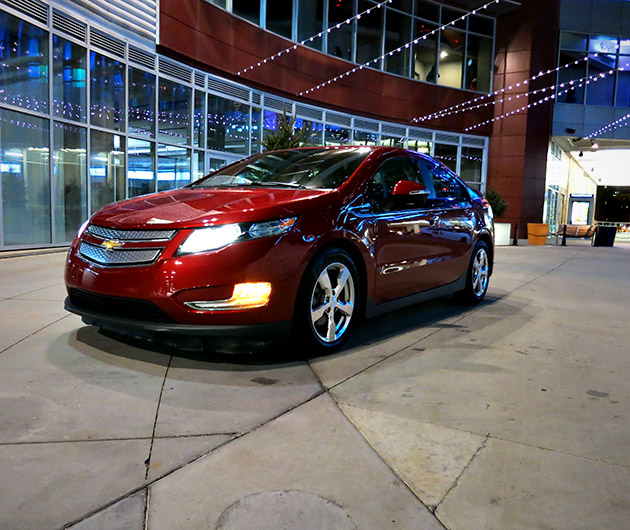 The lack of parking-assistance aside, there were a couple of other grumbles. The split rear window can sometimes be confusing and there's not really enough room in the back for two decent sized adults. I strapped a child seat in the back passenger side and my two-year old easily – and frequently – managed to kick the passenger seat. The cowl too, aerodynamically looks splendid, but it's so low that it scraped every speed bump, side walk and parking space tire stop. Last, as cool as the touch-sensitive center console is, it's button-heavy and can be difficult to use while driving.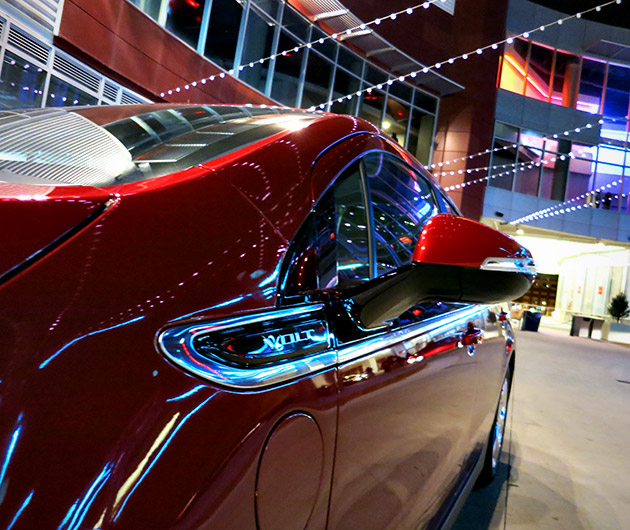 At $39,000 for the basic and stretching beyond $43,000 fully loaded, the Volt isn't cheap. Also, if you opt for a Level 2 outlet installation in your garage, expect to pay a further two grand. On the plus side, it does include a generous 8-year/100,000 mile warranty, and thanks to its solid build quality, impressive performance, it will return its value over time. You'll be doing your bit to help save the planet too of course, and it's not like you can put a price on that.